This is the first book in the SIENNA, THE COWGIRL FAIRY chapter book series. Set in Grayson County, Texas this story is about Sienna who is not your normal cowgirl, for she's half-human and half-fairy. But Sienna wants nothing to do with fairies. When her ma sends her to fairy camp instead of cowgirl camp, she ain't none too happy. Not only must she deal with cliquish fairies who reject her spunky spirit and outspoken ways, she must also noodle out how to help Mother Nature end the Texas drought. Can Sienna balance cowgirling with some tried 'n' true fairy skills to both fit in and make it rain?

A fun book for anyone who has interest in cowgirls, fairies, magic, horses, weather, or Texas. In addition to being delightfully entertaining, this book may help children learn tolerance with the message that people who appear to be different than you are can be very much like you. It may also help children who are struggling with identity.

WATCH SHORT BOOK TRAILER ABOVE

ALAYNE READS FIRST FIVE PAGES BELOW
FIND SIENNA, THE COWGIRL FAIRY: TRYING TO MAKE IT RAIN AT


AND AT LIBRARIES AND BOOK STORES NEAR YOU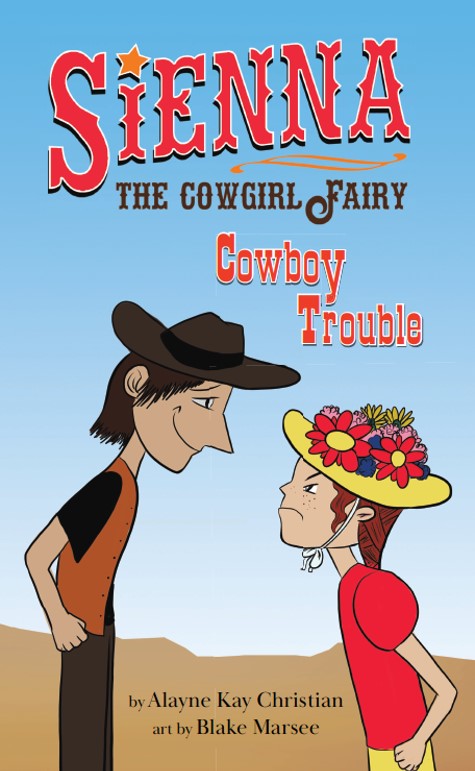 Aunt Rose is getting married, and guess who she's asked to be her flower girl. Sienna's sadder than a coyote without a howl. "I'd look mighty silly in a dress. I'd trip over my own feet in them fancy shoes. And I ain't much good at manners neither." Ma signs Sienna up for cowgirl charm school where Sienna discovers she's even worse at being elegant than she thought she'd be. To make matters worse, Billy Bob and his band of bullies see Sienna in her charm school clothes and raise a ruckus. Maybe Sienna can teach them a thing or two about manners and poise. But can she learn enough at charm school to walk down the aisle without embarrassing herself and Aunt Rose?